Are you familiar with Employee Stock Option Plans (ESOP)?
Also known as an employee share scheme, ESOP is a powerful strategy that leading companies use to hire, retain, reward and incentivise their staff.
There are many practical benefits for both employer and employee.
This article will run through what an ESOP is, whether it might be right for your business and how you can integrate an ESOP process into your company.
So, what are ESOPs?
The equity of a company can be distributed in many ways. Ownership and vested interest can be shared between the original owners, investors, advisors and even employees.
When it comes to 'Employee Stock Option Plans' – it's just as it sounds. It is a method of sharing equity, or ownership, of your company with your employees.
They are a way of bringing the team on the journey and sharing the upside of the company with them.
An important point to remember with an ESOP is that they differ from simply handing over ownership of part of the business. Usually, an ESOP is offered to an employee as part of a benefit plan. And, usually, it will require the employee to fulfil an obligation to the company before they can gain equity.
How Does It All Work? The Ins and Outs of an ESOP.
Firstly, the company will create an ESOP plan and allocate a pool for the company equity. 10% is a common equity figure put aside for ESOPs within a business; however, this can vary upward or downward.
The company will draft a letter to the employee, stipulating the requirements that need to be met in order to be eligible to receive the equity. The employee has a choice in whether they would like to take up the offer.
The conditions put forward by the company to the employee are often time or performance-based. For example, a time requirement may be to require an employee to stay working at the company for five years to be eligible to score those valuable company stocks.
The buying price of the stock at the time of the agreement is set out by the initial letter, sent to the employee from the company. This valuation is called the strike price.
The strike price is generally based on an annual valuation of the company and is lower than the typical market stock price.
All-in-all, an ESOP works to benefit both parties.
The company gains an employee that is incentivised to perform well. The employee gains equity in a company that has the power to increase their personal wealth.
ESOPs are used as part of a great remuneration strategy. But it's important to consider the profile of the employees and the cap table to prepare the best strategy.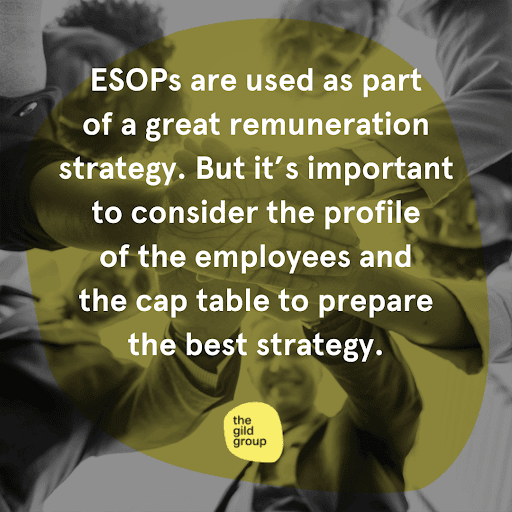 How an ESOP Can Benefit Your Company AND Your Employees in Tandem.
ESOPs are genuinely beneficial for both employees and companies. Let's delve into some perks of leveraging an ESOP:
The huge tax advantages: The ESOP participants are eligible for tax concessions in Australia. Who doesn't love a little tax break!?
An ESOP has the power to attract top talent: This can be super handy for start-ups or early-stage companies to seal the deal on the right staff.
You keep that top talent by your side: Finding the correct staff can be challenging, so why not incentivise them to stay? You'll find your ESOP staff stick around much longer.
They are a new kind of salary top-up: In the world of startups, cash flow can be slim at times. Instead of making dreaded pay cuts, an ESOP allows you to offer proportionate equity.
Think beyond right now: An ESOP can be an effective solution for exit strategy planning. For example, the company owner may be leaving, so an ESOP employee can have those stocks transferred to them.
How To Integrate the ESOP Process Seamlessly
It would be difficult at this point to disagree with the countless rewards associated with implementing an ESOP.
But in the spirit of full transparency, if you're thinking "wow, that sounds like a lot of paperwork" …
You would not be wrong.
Like all good things finance-related, Gild is here to tell you that there are ways to streamline the ESOP processes to make your life just a little bit easier.
We use Cake Equity to help our clients create and manage the ESOP process. By setting up correctly, you are able to automate a number of tasks:
Set up letters of offer
Distribute the letters
Track your employees' vesting requirements
Manage all legal agreements, communications, and document storage
Make pretty much every part of the ESOP process easier …
What If I Want Some Help From An Expert?
Does an ESOP sound like the right path for your company to head down?
Then reach out to your adviser at Gild.
Our team has all the know-how and the experience to give you the full run down and pros and cons involved in an ESOP.
And we'll be able to implement the right software tools with you to make ESOP a reality in your company.